£1,750 PER YEAR
(£650 per term)
£2,500 PER YEAR
(£900 per term)
£5,000 PER YEAR
(£1,750 per term)
| Included in your package | Basic | Premium | Platinum |
| --- | --- | --- | --- |
| Emergency 24/7 support for your child | | | |
| *UK arrival & departure airport transfers | | | |
| Checking & training of suitable Host Families on a regular basis | | | |
| Introducing and pairing up your child with a suitable Host Family | | | |
| *Organising Host Family stays | | | |
| Initial visit to your child | | | |
| Termly visit to your child | | | |
| Parent Meeting attendance & feedback to you | | | |
| Liaison between your child, you and the school | | | |
| *Provision of pocket money | | | |
| Unaccompanied Minor Services | | | |
| Airport meet & greet for your child when using Guardians UK drivers | | | |
| Support with sourcing a UK SIM card | | | |
| Support with opening a UK bank account | | | |
| Weekly communication with your child | | | |
| Frequent visits to your child to support their wellbeing when needed | | | |
| *Book medical & optical appointments | | | |
| Accompany your child to appointments | | | |
| *Source and organise extra tuition as needed | | | |
| Support & advice with applications to other schools and universities | | | |
| *Plan & accompany your child to visit other schools & universities | | | |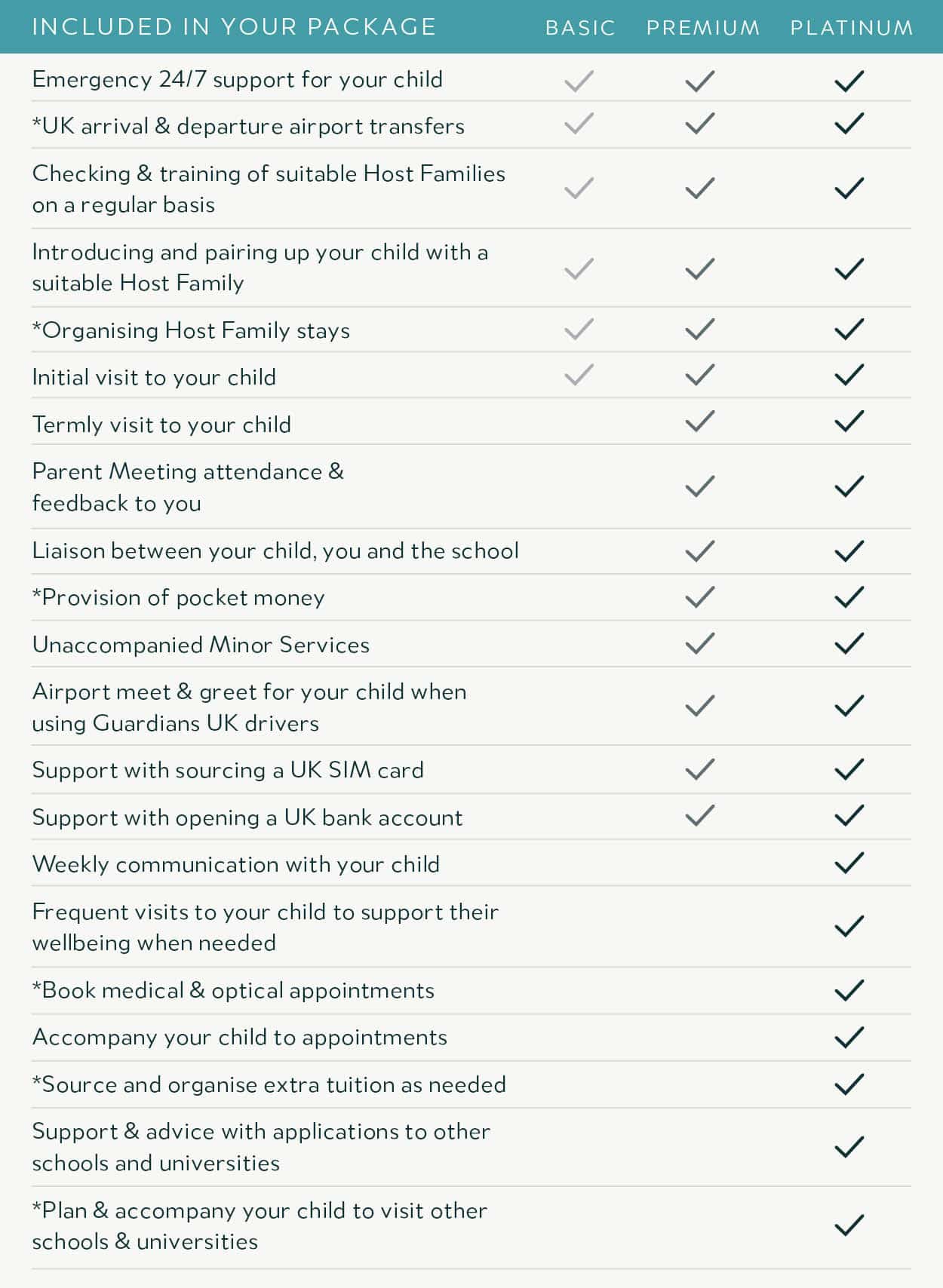 There is an initial non-refundable registration fee of £250 and the guardianship fee is payable in advance. Your child must also have a Student Expense Account to enable Guardians UK to pay for any optional services and for emergencies eg. airport transfers, Host Family stays and pocket money. We require at least £1200 at the start and regular top-ups when the balance falls below £500. Any money remaining in this account at the end of your child's stay with Guardians UK will be refunded to you, having deducted any outstanding fees or expenses.
 *These services involve external agencies and therefore incur costs which will be taken from the Student Expense Account. Host Family stays cost between £60-£85 per night depending on location and reason for the stay.
If you require a service not available in your child's package an additional £50 charge will be made.
If your child is under 13 years of age we advise you to opt for the Platinum package to ensure maximum care and support. The Basic package is not available if your child is under the age of 13.
If your child is not registered with Guardians UK but needs to make use of our services there will be a £250 administration fee on each occasion our services are used.
Don't just take our word for it…
…read what some of our many stakeholders have said about Guardians UK.